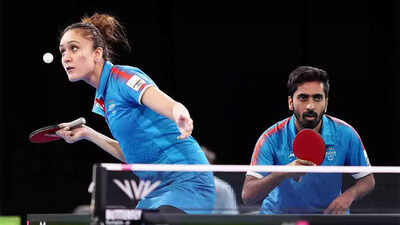 Manika Batra and Sathiyan Gnanasekaran. (Photo by Ryan Pierse/Getty Images)
BIRMINGHAM: Manika Batra from India and Sathiyan Gnanasekaran stormed into the mixed doubles quarter-finals while their compatriots Ashanta Sharath Kamal and Akuja Sreeja also reached the knockout stages of the Commonwealth Games here on Friday.
The Batra duo and Sathiyan beat Nigerians Olajide Omotayo and Ajoke Ojomu 11-7 11-6 11-7.
The two will face Malaysia Javen Choong and Karen Lyne in the first quarter-final later in the day.
The pair of Sharath and Akula, on the other hand, come from behind to beat Malaysia Leond Chee Fang and Ho Ying 5-11 11-2 11-6 11-5.
Sharath and Akula will face local favorites Liam Pitford and Tin-Tin Ho in the second quarter-final clash.
FOLLOW US ON SOCIAL NETWORKS
FacebookTwitterinstagramKOO APPYOUTUBE