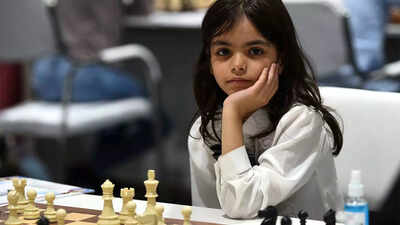 MAMALLAPURAM: Randa Sederan eight-year-old Palestinian girl not to be missed in the sea of ​​participants in the current Chess Olympiad. With requests for photos from players and spectators as soon as he arrived for his game on Saturday, Randa already felt like a celebrity. "Yeah, I like it," said Randa, the competition's youngest player.
At an age when most of her classmates are into cartoons or preparing for their school curriculum, Randa loves to make moves on the board. "I love both studies and chess," Randa said.
Randa is not tall enough and sits on her knees to reach the table where the game is being played. But that doesn't stop her from throwing a punch as she won her match in 39 moves against Fahima Ali Mohamed from the Comoros. Randa made the national team after securing a runner-up finish at the Palestine Women's Championships earlier this year. It was Randa's father who introduced her to the sport when she was five years old. "I took an immediate liking to the sport," said the eight-year-old.
Her teammates, who are much older than Randa, naturally feel a sense of responsibility when it comes to taking care of her. They were seen guarding Randa when requests for photographs came in. The team beat Comoros 4-0. Her teammate Eman Sawan hopes she can face tougher opponents as the event progresses. "This is the first time that Palestine has sent a women's team overboard for the Olympiad. We hope to face stronger teams in the next rounds," she said.
Randa's presence at the tournament caught the eye of the legendary Judit Polgar. She tweeted: "I will be following Randa and can't wait to welcome him back to the studio after one of his wins." For his part, Randa hopes to meet his idol in the coming days.
Olympiad Against the Background of War: The Palestinian-Israeli conflict has been going on for years. The situation in the country forced the Palestine team to take a longer route to reach Chennai. "We first went to Jordan, then to Bahrain before arriving in India," Eman said. The team hopes its performance at the Olympiad will boost the sport in Palestine. "We have very few home tournaments and if we are successful — chess will become more popular," Eman said.
FOLLOW US ON SOCIAL NETWORKS
FacebookTwitterinstagramKOO APPYOUTUBE